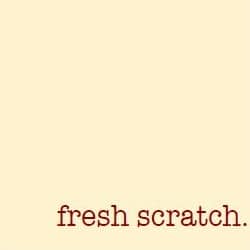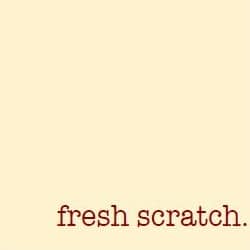 An old friend of mine is also our newest client at SEO Bandwagon, Kelli Samson and her blog Fresh Scratch have outgrown wordpress.com and it was time to step up to a self-hosted WordPress install to have better options for monetization, tracking, themes, etc. So we've updated the theme, added some functionality with plugins, semantic markup, analytics tools, and it's just been launched today.
The tagline sums it succinctly, "food, family & fun". It was certainly fun working with Kelli, she knew her limitations on her current platform and wanted to have more freedom to work on Fresh Scratch. In case you can't read between the lines, more time means more money, which means expanding readership, finding sponsors for content , advertisers, and selling your own products. I don't want to get any further in-depth because protecting business intelligence for clients is part of the core beliefs of SEO Bandwagon, but let's just say there are some ideas that have both of us excited for the potential revenue.
So, if you like food and fun, please read Fresh Scratch, follow on Twitter, and salivate on Pinterest.