It doesn't matter if you are running for the US Senate, or if you are just trying to pass a local school levy, building an organization around an idea or a project isn't easy. You need to raise money, stay in contact with your supporters, coordinate events, and organize your volunteers.
The ease of which NationBuilder performs out of the box is literally mind blowing.  For those of you that have not yet discovered this little up and coming gem, allow me to point out some of the highlights to the system.
1- Ease of website creation:
As soon as you start your free trial to the platform, you are offered a good selection of pre-designed themes ( or templates ) that are as easy to install as one click. From there it is a snap to create new content with their browser based editor. For new pages ( depending on your needs ) you are offered a list of potential pages that you can then create. Say you wanted to create an event, sell tickets, and ask for volunteers for it. All of those needs can be created in less than 15 minutes. Want a feedback page? Done!
Having utilized the platform for a recent political endeavor, pages on our site and the ability to create them with ease seriously streamlined our political committee activities. When we wanted to create a special event, we were able to not only create the event but we were able to notify our supporters and email out reminders all on an automated system.
Another great asset to the system was that everything you needed was already there for you. No more hunting around for social media icons, or social sharing plugins or this plug in or that. As soon as we put our information into the system, it auto populated and away we went.  For those of us that have been in the industry awhile, we know it is a bit of work to get everything to communicate the right way, right a way on a website.
2- Social Media & Sharing 
Unlike other content management systems (CMS), NationBuilder comes out of the box with the social tools that can get everyone involved right away. You have the ability to create your own 'nation' of supporters, volunteers, staff, etc without the any of the headaches normally associated with re-inventing a wheel. As soon as someone signs up on your site for your newsletter, you are afforded the opportunity to enable that person to become more involved with a click of your fingers. We were able to have people create their own events on our site, share within their social circles and allow them a sense of ownership of the community.
Our nation was also set up so anyone with the right permissions could start their own blog and promote not just us, but their efforts as well. As well, we found that sharing our own content on the social networks was extremely streamlined. Anyone that jumps into the system to create something no longer has to change browser windows to share that item. From the main user interface we were able to post to Facebook, Twitter, and other networks at our discretion. The system also allows you to schedule your posts to coincide with events and so your messages don't stack up and get missed by your followers.
Social sharing was effortless and we were able to track our biggest supporters and know exactly who was sharing what, and recruiting more people as well. Our supporters also took notice of who was contributing the most to the growing nation.
3- Emails 
Have you ever noticed your bounce rate when using other newsletter systems? Perhaps you found that you had to have people white list your email before you could get your message to them. Not anymore. The emails and newsletters that you send out from NationBuilder are already white listed with all of the major email providers. We had a zero bounce rate, and a 100% deliver rate. Even Comcast delivered our emails without hesitation. Once delivered, we could then track who opened the email and who had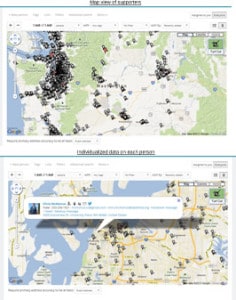 not. Above all else, you are able to deliver specific emails to specific members of our nation through the use of  'tags' or 'lists'.
4- Data 
I myself have never seen so much data and information in one spot before. As you can see with the attached image, there is alot of things you can get from your supporters. Utilizing the Google Map API, NationBuilder affords you the opportunity to really dig in and see where your support is coming from. This is a huge plus for small business owners and political committees as it helps you target where you need to spend money on your outreach and or advertising ventures.
5- Finances 
I think the only ones that like doing finance paperwork are the bean counters. However after working within the system and really going all out, I found that tracking our finances was a breeze. If someone made a donation or purchased something, we were able to capture all of their information for the record keeping, as well as keep a running tally of money coming in. If we wanted to turn our site into a membership based system, we could do so and still keep track of those that had joined us on that level. Every step of the way, we could cater to our viewership and audience with specific messages just for them. The automation of the system was huge! Someone makes a donation or purchases something – immediately the system sends out follow up 'thank-you' messages with whatever message we wanted.
6- Customer Service
When we first jumped into the system, there were spots that I myself had no idea how to access. Even with my experience I still would hit a spot where I just did not know what to do or how to get it to go. Whenever that happened, I simply shot an email off to my customer service rep and they were on it within minutes.  I did not have to sit around an wait for an answer, and better yet because it is a platform that I was paying for I knew I had a reliable source of help no matter what time of day ( or night ) I was working. Try getting that from your plugin provider.
Is this platform going to help you? Is it right for you?
The proof they say is in the pudding. I invite you to take the tour and get to know them a little and sign up for a free two week trial and find out for yourself. If you are in business for yourself, a political committee, or even just a person wanting more from your site then this platform is for you.  More information about the NationBuilder system can be found at this link.
Make the rest of your day/night exciting!