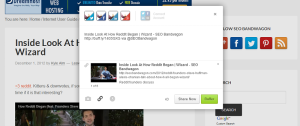 In case you don't already know, Buffer is a social media management tool that just went from good to great with the addition of posting to Google+ Pages in addition to Twitter, Facebook, LinkedIn (Profiles & Groups, NOT Company Pages), and app.net.
UPDATE: Buffer Supports LinkedIn Company Pages
Similar to HootSuite or TweetDeck, Buffer has a simpler interface makes it a good choice for people and has many features that would be useful for companies, organizations, brands, and bloggers.
Buffer posts to your social networks on a schedule, it's a simple stack, first in first out style. You just have to fill it up and they go out on schedule.
Unless you upgrade to premium, you are limited to one account on each network and the size of your buffer is limited to 10 posts each network. Upgrading to Awesome gets you 12 accounts, 1 team member, and an unlimited amount of scheduled posts. There are even more options for businesses starting at $50.
Once you create your buffer account just click to add your network, authorize Buffer and you are done. And you can get a free trial of awesome or business also.