A few weeks ago we did an SEO Audit for our new client, buddingSTEM. We are going to share some of our findings and demonstrate the opportunities that an SEO Audit can find on your website.
buddingSTEM is a clothing line for girls with a focus on Science, Technology, Engineering, and Math. When these moms couldn't find clothes for their girls they decided to get into business to fill this demand. The initial launch was a big success on Kickstarter and they won an award and received national press for their efforts.
One of the founders is a friend of mine, so I've been able to follow their launch on Facebook.
In that way they are an exceptional client. Most businesses don't get that level of coverage and exposure, if at all. So, I was a little concerned when they said they needed some help with their SEO, because they shouldn't need it. Their niche shouldn't be that crowded, and it isn't. It was the lack of this type of product that sparked this project, and their media coverage earned them links that a link builder dreams about.
Something was up and it really didn't take long to find it.
I noticed that the title tag wasn't showing up correctly. It was showing up as "  | buddingSTEM".
When you have done SEO for as long as I have, the problems just jump off the page even when it's not ASCII code. Sometimes you don't even need to check the source code. I found more problems looking at the source code. When the title has problems, I can pretty much guarantee you that there will be other problems that you can't see.
Just like all books, articles, and all things written, titles are incredibly important. What would you have guessed this post was about without a title? The Googlebot isn't smart enough to figure it out either. When Google is evaluating your pages and reading the on page HTML elements it is looking for meaning from your syntax. If the titles are all the same it is a signal that the content is going to be largely similar.
We also found a similar problem with the meta descriptions. They were all the same, which was magnifying the problem with the title tag.
Shopify is an amazing e-commerce platform, but not all themes are created equal. Luckily, the fix was pretty simple and Shopify is well documented for developers like me to find solutions to these types of problems. The meta descriptions had already been written for each product, so when we changed the template meta descriptions and titles were all unique.
Another big issue were the amount of 404 errors that were coming in from Google Search Console, and even worse, some of them were links from major media outlets. One downside of Shopify is that they don't allow a bulk upload for redirects. You have to do them. One. At. A. Time. Or you can pay for one of their apps, so I brute-forced it since it was one time only (fingers crossed).
There were some other technical problems that I will not go into, not only because they are boring, but also because they probably didn't have much impact to the results that we achieved. After the changes were made we just needed to get the changes recrawled and new titles in the Google Index. This can be requested in Google Search Console, which you should only do after making changes like this.
The results so far? We performed our SEO Audit on July 5th, contracted to do the work on the 13th.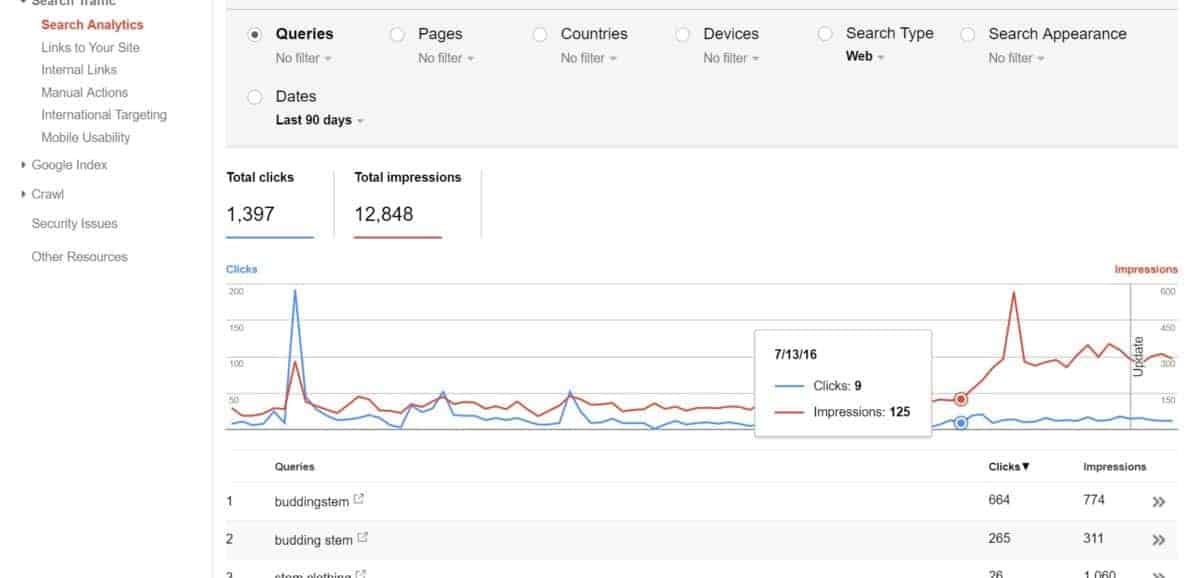 As you can see, search impressions (the number of times their content gets delivered as a search result) are up dramatically now that the content is indexed with titles. Clicks are up, albeit less dramatically than impressions, but it does take time to rank for new search terms when you weren't there at all.
And more importantly than just traffic, sales attributed directly to Organic Search are up.
We can also use this data to continue to promote products like their space dress or glow in the dark firefly leggings. We are also running a few AdWords campaigns to evaluate some of the keywords we identified in the Audit.
These results aren't typical. This is pretty much the definition of low-hanging fruit, but sometimes you never know what opportunities are available until you have an SEO Audit performed. You've got to crawl before you walk and you also have to crawl before you rank. See what the bots see and make you are code is sending the correct signals.
I would expect traffic to continue to increase as rankings improve for new keywords, even without doing link building. In my experience, it is rare for a page to show up on the first page without showing up on the second, third, or fourth page of Google first. So we have that to look forward to.
If you are looking to improve your search presence, you can order our SEO Audit now.